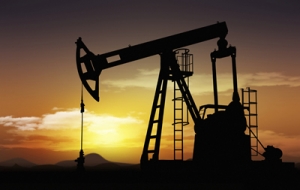 Oil and gas applications present some of the most challenging seal environments due to extreme temperatures, high pressures, and harsh chemicals. Precision Associates has an extensive library of compounds engineered specifically for performance in these situations. Combined with our experience in molding seals, bonded seals, and custom rubber shapes in these compounds, we are a trusted provider of sealing solutions for the Energy Industry.
Technologists in our on-site laboratory develop and formulate recipes from FKM, AFLAS®, FEPM, FFKM, HNBR, and EPDM to name just some of our material resources.
High Pressure Environment
Because of their critical nature, compounds used in this market require extensive testing and qualification before use in the field. PAI can provide High Pressure Extrusion Resistance, Rapid Gas Decompression (RGD) and Compressive Stress Relaxation testing to ensure suitability for use.
Extrusion occurs when system pressure forces the seal from its groove and into the clearance gap within the seal housing. Proper groove dimensions and seal selection combined with elastomers designed to resist extrusion can prevent this type of failure. Our technical staff can assist you with these to minimize the risk of extrusion resulting in seal failure in your operation.
Elastomeric seals may absorb gas during operation without damaging the seal but the condition known as Rapid Gas Decompression (RGD) or Explosive Decompression (ED) can occur when the system pressure is suddenly relieved and the absorbed gas expands rapidly destroying the seal. Proper material selection is key to obtaining optimal seal performance in equipment operating in high pressure gases.
Precision Associates compounds 608905 (90 duro Viton®) and 8990 (95 duro Viton ®) achieved the best possible overall rating of "1" when tested to NACE TM 0192-2012 and "0000" when tested to ISO 23936-2 by an independent lab.  Additionally, compounds 25895 (85 duro FEPM) and 55995 (95 HNBR) were recently tested to NACE TM 0192-2012 and both materials achieved the best overall rating of "1".
Compound 608905 and 9905 (Extreme Low Temp FKM 90 duro) have also been tested and qualified for Sour Service (API 6A) FF/HH 10% H2S. 
 Compression set testing is performed on a rubber button compressed into a test fixture exposed to hot air for a specified amount of time to represent the aging process. The button is removed from the fixture and allowed to return to room temperature and measured for the amount of "set" taken after returning to its final thickness. This measurement has historically been used to predict how the tested polymer might perform in a sealing application.
Another method of testing used to predict seal life, Compressive Stress Relaxation measures the force a rubber seal exerts against it's mating surface after being exposed to aging conditions over a specific period of time. The ability of the material to maintain this force is useful in predicting seal longevity in an application when considered in relation to the Compression Set data.
Precision Associates conducts these tests as part of our commitment to servicing Oil & Gas, Chemical Processing, and other Energy related industries.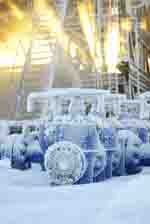 Oil and Gas applications typically require rubber seals made from compounds that can withstand high operating temperatures but much of the energy industry operates in climates that experience some very cold weather. Precision Associates produces four compounds, two each in FKM & HNBR, that have proven effective for Energy applications in frigid climes. These materials are designed not just for low temperatures, but for resistance to gases and fluids encountered in the industry.
Read more about PAI Energy Compounds, B-Lo° Lo-Temp Rubber Compounds, RGD & Extrusion Resistant Compounds, and Electric Submersible Pump Bags.
®Registered trademark of ASAHI Glass Co., Ltd.