Micro-Miniature Seals and Molded Gaskets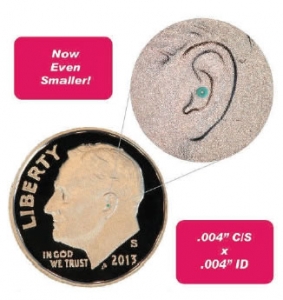 21st Century electronics are smaller and lighter weight than ever before requiring any rubber seals or components used in them to be micro-miniature. Precision Associates is the source for Micro-Miniature and Close Tolerance O-Rings and Seals.
PAI's proprietary molding process, state-of-the-art deflashing equipment, and on-site tooling facility allowed us to build the tool and manufacture the
World's Smallest O-Ring!
The green O-Ring pictured in Roosevelt's ear measures 0.004" C/S X 0.004" ID and is representative of PAI's micro-miniature manufacturing capabilities.
Many Electronics and Industrial Controls customers would never need a seal quite this small but the equipment and processes used to make this O-Ring are the same ones that make it possible to produce other miniature seals and to maintain tighter tolerances than are generally expected within the rubber seal industry.
Close tolerance seals start with a precise tool and expert knowledge of our compounds and production processes. Precision Associates' in-house tool shop will produce a mold to precisely match the shrink characteristics of the chosen rubber material. Production parameters are strictly controlled to minimize variation.
In addition to our standard 100% visual inspection, micro-miniature seals may also be inspected under magnification. When size and configuration of the seal permit, PAI uses automated measuring equipment to ensure compliance with customer specifications.
Pumps and industrial control housings are just some of the applications where gaskets are often used. Typically cut from sheet goods, there are several reasons why Molded Gaskets from Precision Associates are a superior option. Calendered sheets are produced in standard thicknesses limiting flexibility of design regarding this dimension and tolerances held on thickness vary as much as +/- 0.015". Molded gaskets can be customized to any thickness and held to tolerances as tight as +/-0.002". Profiles of molded products can be customized and contain locating devices to aid in assembly. Availability of calendered rubber limits the material selection for stamped gaskets. Molding gaskets allows customers to utilize PAI's extensive library of compounds. Producing gaskets from sheet goods can result in wasted material. Molded gaskets can often be more economical due to reduced material waste and significant cost savings can be realized when using expensive polymers like FKM, Fluorosilicone and FFKM.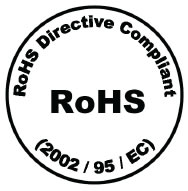 The European Union created RoHS (Restrictions on Hazardous Substances in Electrical and Electronic Equipment) legislation to eliminate use of several substances deemed environmentally harmful. Companies manufacturing electronic equipment that will be sold in Europe must comply with the legislation. Most of the materials Precision Associates offers are "RoHS compliant". Product data sheets for these materials contain a statement to this fact and can be requested from Customer Service. While rubber products are not the main source of concern in this directive, there are materials that do contain some amounts of the restrictive substances, particularly lead or cadmium, and a complete list of non-conforming materials can be found on our website.